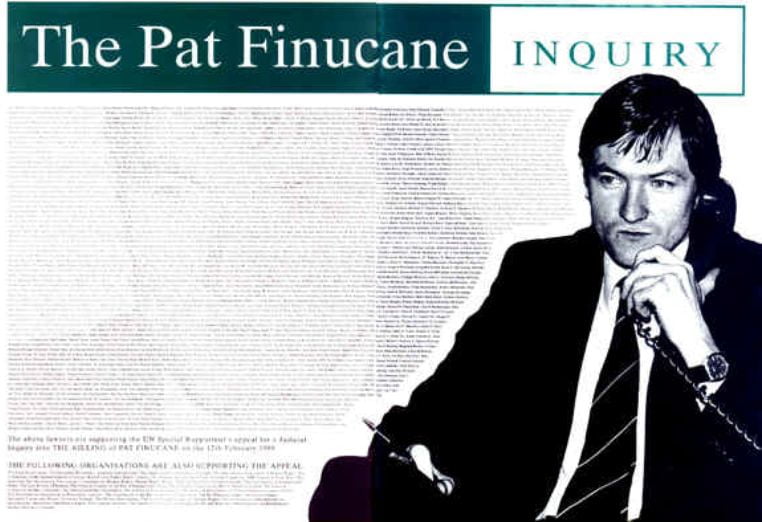 THE family of murdered solicitor Pat Finucane are being treated with contempt over their calls for the British Government to hold a public inquiry into the killing, the High Court heard today.
His widow, Geraldine Finucane, is challenging the alleged failure to act on a finding that the assassination has never been effectively investigated.
Lawyers for Secretary of State Julian Smith insist he is committed to making a decision on demands for a tribunal as soon as possible.
A judge was also told Mr Smith has now offered to meet Mrs Finucane to discuss the case on January 24 next year.
But her barrister claimed the level of delay since the Supreme Court ruled in February that previous inquiries into the murder did not meet human rights standards "beggars belief".
Fiona Doherty QC said: "Sadly the family and Mrs Finucane are understandably sceptical about anything said by the secretary of state.
"I'm afraid they consider the treatment of them in this matter smacks of little more than contempt."
Mr Finucane (39) was shot dead by loyalist paramilitaries in front of his wife and three children at their north Belfast home in February 1989.
His family have campaigned ever since for a full examination of alleged security force collusion with the killers.
Mrs Finucane's renewed legal challenge centres on the British government's alleged inaction since the Supreme Court judgment.
"It's now nearly 31 years since this murder, and the state's response to it since then has been characterised by obstruction, obfuscation and delay," Ms Doherty contended.
She maintained that the only remedy is the establishment of a public inquiry with powers to examine witnesses.
"To say the government takes almost a year to respond (to the Supreme Court ruling) in a case of this notoriety and magnitude is outrageous and shouldn't be tolerated," the barrister added.
Paul McLaughlin, for the secretary of state, stressed the decision-making process involved a number of stages, including meeting the family and consultations across Departments and with the British prime minister.
He rejected allegations of any abdication of duty or breach of Mrs Finucane's legitimate expectation.
Seeking to have the case deferred to February, Mr McLaughlin told the court: "It's much easier to find a problem than sometimes to find a solution.
"The secretary of state is committed to making a decision and needs to be properly informed."
Judgment was reserved in the application for leave to seek a judicial review.
Mrs Justice Keegan pledged: "I will give my view when I can."
Outside court Mrs Finucane's solicitor, Peter Madden, insisted a previous review by Sir Desmond de Silva QC into the murder was not a proper fact-finding process.
He said: "The longer the delay, the greater the perception that the government has something to hide in this case."