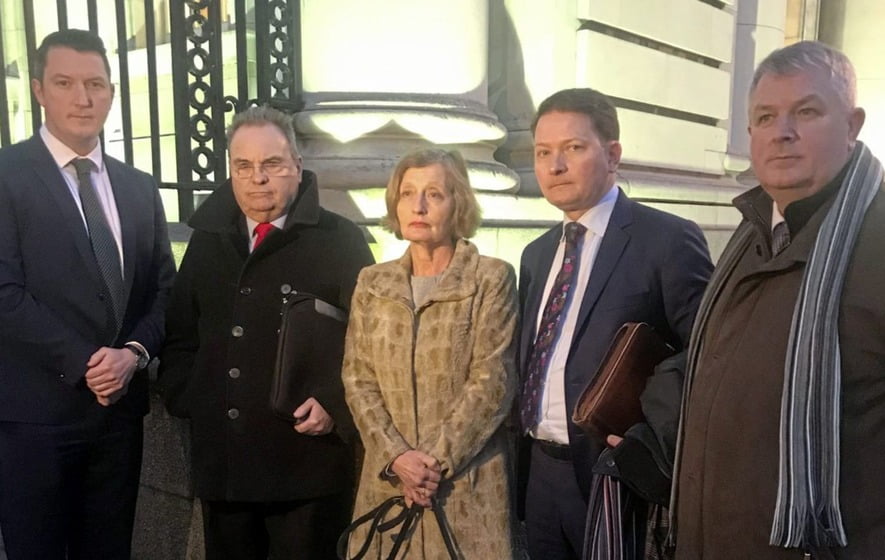 The taoiseach has offered his support to the family of murdered Belfast solicitor Pat Finucane as they continue their lengthy campaign for justice.
Tuesday marks 30 years since Mr Finucane was shot 14 times by loyalists in collusion with British security forces while enjoying Sunday lunch at home with his family. He was 39.
His wife Geraldine and her family met the Taoiseach Leo Varadkar at Government Buildings in Dublin on Monday.
Mr Finucane's sons John and Michael and brothers Seamus and Dermot attended the meeting as well as family lawyer Peter Madden.
Speaking after the meeting, Mrs Finucane said: "It was a very positive meeting and we asked the taoiseach to reinforce the Irish government's commitment to our campaign and request for an inquiry into my husband's murder.
"He was more than happy to support us. We did ask him if he would come to Belfast to speak and he gave us a very positive response to that so we are very happy with the meeting.
"He realises it's very important and is at the very centre of legacy issues.
"The Irish government sees the relevance of it. We've always had to fight, of course, for British support, but I was very happy with the taoiseach's response to us today.
"He is going to continue to bring the case up with all the politicians that he meets, not only British ones, but he has promised that when he goes to America he will talk about our case there to remind all our supporters in America that our case is still unsolved and unresolved."
During a special event this weekend in Belfast to mark the anniversary John Finucane said his father was murdered to silence other human rights lawyers.
John was a schoolboy when his father died in front of him.
Mr Finucane said his father represented all sides, while others at the event said he spoke up for the voiceless.
Mrs Finucane described Sunday's event as emotional.
"Whilst it was a public event it remembered Pat as who he was and how he lived his life and that was very emotional," she said.
Former prime minister David Cameron acknowledged the "shocking" level of state collusion in the 1989 UDA killing after receiving a report on the evidence.
Sir Desmond de Silva's review confirmed agents of the state were involved and it should have been prevented – but ruled out an "overarching state conspiracy".
The Finucane family has engaged in years of litigation over what they say is the UK government's failure to grant an independent public inquiry and strongly opposed the decision to order the de Silva review.
A Supreme Court judgment on legal action connected to the case is pending.