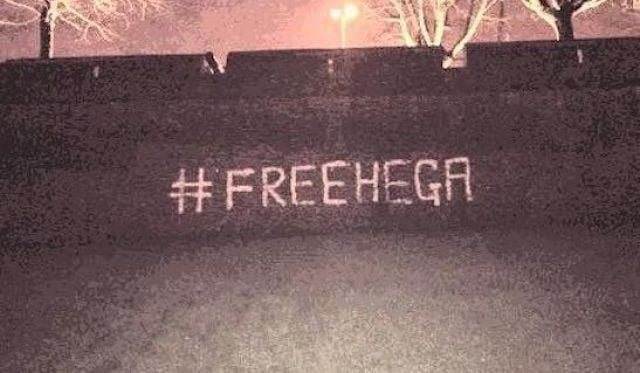 The Derry republican Neil Hegarty, whose licence was revoked at Christmas for allegedly refusing to comply with tagging requirements, was released from Maghaberry Prison this afternoon.
Mr Hegarty's licence was revoked in December after he was accused of refusing to comply with tagging conditions.
He had been serving a ten year sentence and had been released after five. He was returned to Maghaberry Prison 36 hours after his release when it was alleged he refused entry to G4S staff who wanted to fit him with a tag.
His return to jail was then challenged by Madden & Finucane Solicitors.
His release was welcomed by the independent republican group Saoradh, based at Junior McDaid House in the Bogside.
Spokesperson Patrick Gallagher said:
"Saoradh welcome the release of Republican internee Neil Hegarty today. Neil was interned on December 6th 2017 by the British Direct Ruler a matter of hours after being released from five years incarceration in Maghaberry.
"Since then Saoradh, Éistigí and IRPWA activists have continually highlighted Neil's ordeal and demanded his release.
"His release should in no way deflect from the vindictive and arbitrary way in which he was interned, or the cases of other ongoing similar examples.
"To our comrade Neil Hegarty we say welcome home to your family and community.
"Failte romhat abhaile, a chara."
The Irish Republican Prisoners Welfare Association said: "After a review his licence revoking has been quashed. The IRPWA are delighted for Neil and his family. Failte Abhaile Neil (arís)"
Mr Hegarty's refuse was originally refused last Tuesday (Feb 13). Justice McCloskey, despite expressing concerns about the police dossier, said that the 'threshold for judicial intervention had not been overcome'.
Giving his ruling, Justice McCloskey said: "The recall determination of the official concerned plainly lay within the range of reasonable decisions available to him."
But he also identified issues in the police report. "The gloss in this report relating to 'willful disengagement' and 'affirmation' was opaque, unparticularised, and, having regard to the totality of the evidence, misleading," he said.
Ciaran Shiels of Madden and Finucane Solicitors then lodged an appeal against the ruling.