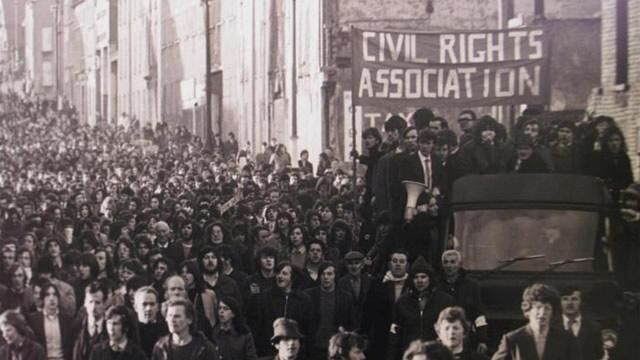 Court hearings in the Bloody Sunday Soldier F case have been put back to September because of the coronavirus pandemic.
The ex-paratrooper, who is now aged in his 70s, is charged with murdering two of the Bloody Sunday victims – Jim Wray and William McKinney. He's also charged with attempting to murder Patrick O'Donnell, Joseph Friel, Joe Mahon and Michael Quinn, as well as attempting to murder a number of persons unknown.
At a review of the case before the magistrates' court in Derry on Thursday, solicitor Ciaran Shiels, who represents several of the victims' families, applied to District Judge Ted Magill to have an anonymity order granted to Soldier F lifted.
Soldier F was originally granted anonymity during the Bloody Sunday Inquiry by the Inquiry's chairman Lord Saville in 1999.
After he was charged with the murders and attempted murders last year District Judge Barney McElholm imposed an interim anonymity order which could be reviewed at any time.
Mr Shiels applied to have sight of the interim anonymity order to enable him to progress his application for the order to be lifted and to have Soldier F named.
The solicitor said in other murder cases in Northern Ireland involving members of the security forces, military and police witnesses were named during the court proceedings.
He said Soldier F faced the most serious charge in the criminal calendar and in order for written applications to be made in relation to the anonymity order, he required sight of the order.
Prosecution barrister Louis Malby QC said he had no objections to Mr Shiel's request and the interim order should be formalised.
District Judge Magill said he would review the application on July 24 and he said for that reason and for other reasons the scheduled Soldier F hearing for July 16 would now have to be put back until the start of the next court term in September.
The District Judge said that, while there were many compelling reasons why interested parties including legal and victims' representatives and witnesses should attend the hearing, it would not be possible to accommodate everybody who wished to attend because of the current Covid-19 restrictions which limited the number of people who could attend court to 10.
Mr Magill said evidence via sightlink would be heard from witnesses from the UK and from Europe during which documents and maps would have to be shown to some of the witnesses which raised practical difficulties. He said the courtroom sightlink system constantly experienced operational difficulties and he said everything was predicated on the amelioration of the pandemic.
Mr Magill said he would keep all matters under constant review and he said both the prosecution and the defence should be ready to proceed at short notice.
Thirteen unarmed people were killed during a civil rights march in Derry's Bogside area on January 30, 1972. Fourteen others were injured and another died later.