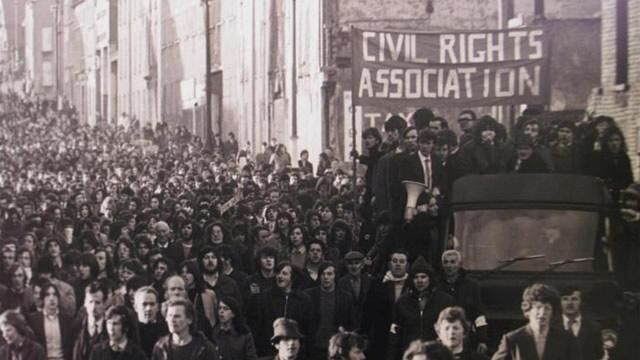 The families of two men shot dead on Bloody Sunday have been awarded a combined £700,000 in compensation.
The family of Gerard McKinney, a 35-year-old father-of-eight, who was shot dead at Abbey Park in Londonderry, were awarded £625,000.
Michael McDaid, 20, was killed near a barricade in Rossville Street. His family received £75,000.
Thirteen people died after soldiers opened fire in the city in January 1972. A 14th person died later.
In September a man shot in the face by a soldier on Bloody Sunday was awarded £193,000 in a civil compensation case.
Mr McKinney was a qualified engineer and toolmaker by trade. He had been a renowned entrepreneur prior to his death.
He and his wife Ita had seven children at the time of his death, with an eighth born a week after Bloody Sunday.
About 10,000 people gathered in the Creggan area of Derry on the morning of 30 January 1972 to take part in a civil rights march.
After prolonged skirmishes between groups of local youths and the Army, paratroopers moved in to make arrests.
During this operation, they opened fire on the crowd.
Dispute
Claims were brought against the Ministry of Defence (MoD) by victims and their families after a major tribunal established the innocence of all those killed and wounded.
At the High Court in Belfast on Monday, Mr Justice McAlinden congratulated lawyers involved in the test cases for reaching the settlements "without the need for any distressing sensitive or distressing evidence to be given".
A dispute emerged in court over methods for calculating the financial loss in Mr McKinney's case.
Counsel for his widow, Brian Fee QC, claimed the defendants were attempting to use rules from the 1970s in order to pay out just a tenth of the appropriate damages.
He contended that it went against government pledges about taking a generous approach to compensating victims.
But following further out of court discussions it was confirmed that both listed cases had been resolved.
David Ringland QC, for the MoD, indicated that similar agreements are now expected to be reached in nine other fatal cases following the "breakthrough".
Outside court solicitor Fearghal Shiels, of Madden & Finucane, said: "This is a further vindication of their innocence and the families in bringing the proceedings.
"We also welcome the fact that this has been resolved without the need for Mr McKinney's daughters to take the witness box."
'Unjustified and unjustifiable'
There have been a number of investigations into the deaths, including the Widgery Tribunal – which was later described by some as a whitewash.
In 2010, the Saville Inquiry found that those killed or injured on Bloody Sunday were innocent.
The then prime minister, David Cameron, issued a public apology for the actions of the soldiers, describing the killings as "unjustified and unjustifiable".
Claims were later brought against the Ministry of Defence by those bereaved or wounded.