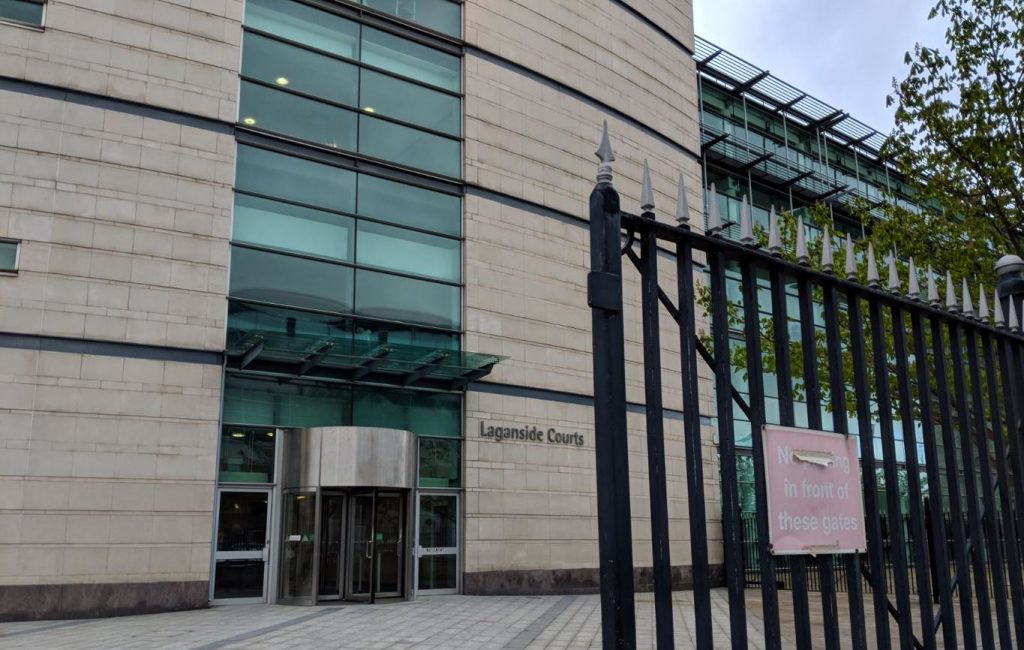 Speaking outside Laganside Court House, Adrian Holland's solicitor Ciaran Shiels of Madden & Finucane confirmed that, if his client was sent forward to face a trial on Indictment before a jury, the Defence would be renewing its application to have the case stayed due to an Abuse of Process.
Ciaran Shiels said:
"We were obliged, as a matter of necessary procedure, to raise these most serious matters involving unlawful State surveillance of the Defendant's legal consultation whilst being held in Maghaberry without bail, before a District Judge. The simple truth is that the PSNI and the Prison authorities have done absolutely nothing to investigate this State criminality surrounding the Robbie Lawler murder case as the Defence prepare for trial and to apply for bail. One can only imagine the outcry if the lawyers preparing the Prosecution of any persons charged with the murder of DCI Caldwell were having their legally privileged consultations illegally eavesdropped by other State Agents. We will see then what the Crown Court makes of this situation."
A man charged with murdering Irish crime boss Robbie Lawlor failed today in a bid to have the prosecution halted over allegations of eavesdropping on his legal consultations.
Lawyers for Adrian Holland, 39, claimed he has been denied the right to a fair trial by the suspected covert monitoring while held in custody.
But his application to stay the case was dismissed after a judge held that he has access to private discussions within the prison.
Lawlor, 36, was shot dead in broad daylight outside Holland's home in Ardoyne, north Belfast on April 4, 2020.
The assassination formed part of a violent drugs dispute between rival criminal factions with connections to Drogheda, Dublin, Sligo and beyond Ireland.
Neither Holland nor 47-year-old co-accused Patrick Teer are suspected of being the gunman.
Instead, they have been jointly charged with the murder as part of a joint enterprise with others.
A preliminary enquiry is due to be held to determine if both men should stand trial for the killing.
However, Holland's legal representatives argued that the prosecution should be stopped at this stage because of two alleged eavesdropping incidents at HMP Magahabbery in January last year.
Belfast Magistrates' Court heard claims that unidentified individuals were spotted monitoring from another room as he was brought to a Zoom conference meeting.
A prison governor subsequently issued an apology in which she confirmed staff do not have permission to listen to conversations and described it as a "misunderstanding".
Two days later, however, Holland's telephone consultation with defence solicitor Ciaran Shiels was also allegedly targeted.
Mr Shiels heard glitches on the line before the call dropped out, and then a voice stated "that's them back on now", the court was told.
Defence barrister Joe Brolly argued Holland has been unable to speak freely to his legal team ever since.
"It is difficult to think of a more egregious attack on an accused person's rights," he submitted.
"We have been left in an impossible position and, more importantly, the accused has been left in an impossible position," Mr Brolly submitted.
"The evidence strongly establishes covert monitoring of consultations."
Urging District Judge Steven Keown to grant the application, he added: "For us not to be able to consult with him on sensitive, complex matters which are life-changing for him, we say the court has no alternative."
Prosecution counsel insisted there was nothing to support Holland's unsubstantiated "feelings of unease" about any consultations.
Assurances were also provided by the Prison Service that monitoring has not been carried out.
"There is absolutely no evidence of any of the matters alleged," the barrister added.
Judge Keown ruled Holland is not prevented from having confidential, in-person meetings with his lawyers in prison.
"The defence have not, in my view, established that they cannot consult in private or following on from that it is impossible to give the accused a fair trial," he confirmed.
"I therefore dismiss the application to stay the proceedings for an abuse of process."
Holland and Teer are both due back in court later this month for a further hearing to establish if they will face trial.