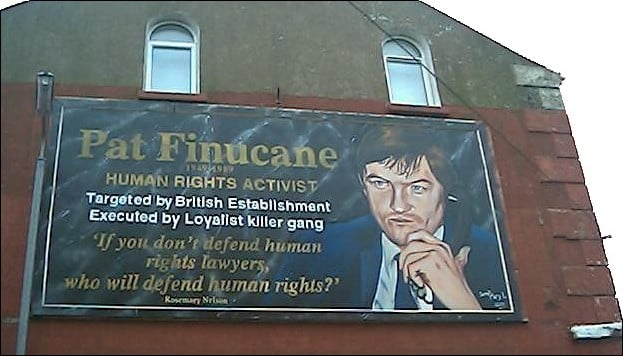 Northern Ireland's Secretary of State is involved in an "outrageous" attempt to undermine Supreme Court findings that solicitor Pat Finucane's murder has never been effectively investigated, a judge heard on Thursday.
The murdered Belfast lawyer's widow is taking legal action against Brandon Lewis for deciding not to hold a Public Inquiry into state collusion in the killing.
But as Geraldine Finucane's case was put back to November, her barrister claimed a hold-up in meeting the challenge was part of an "exercise in obfuscation".
Fiona Doherty QC told the High Court: "This process that is currently underway, and the reason for the delay in the Secretary of State's response, is directed to what we say is an impermissible and frankly outrageous attempt to undermine the Supreme Court decision delivered in February 2019."
Mr Finucane was shot dead by loyalist paramilitaries at his north Belfast home in February 1989.
His family have campaigned ever since for a Public Inquiry to establish the full scale of security force collusion surrounding the murder.
Two years ago Supreme Court justices held that previous probes into the killing failed to meet Article 2 human rights standards.
Mrs Finucane initially issued legal proceedings in a bid to force the Government to act on the finding that no proper investigation has been carried out.
Mr Lewis apologised for the delay in making a decision, but announced last November there would not be a Public Inquiry at this point because police review processes needed to run their course.
An order was then made for the Secretary of State to pay £7,500 damages to Mrs Finucane for the "excessive" delay in reaching his position.
A further challenge to the legality of his decision to await the outcome of reviews by the PSNI's Legacy Investigations Branch and the Police Ombudsman was due to be heard this month.
But amid efforts to recover and analyse all relevant archived documents from police facilities at Seapark in Co Antrim, lawyers for the Secretary of State sought more time to carry out security assessments and prepare their case.
In court today Paul McLaughlin QC indicated that the intensive process should now be completed by the end of August.
With a potential Public Interest Immunity (PII) certificate still to be sought for any issues of national security, he suggested the case could be ready for hearing "just after Halloween".
According to Ms Doherty, that would give the Secretary of State a "staggering" four and a half months to prepare for the challenge.
"That's at best disappointing, and at worst unacceptable," she contended.
Listing the case for a four-day hearing in November, Mr Justice Scoffield acknowledged Mrs Finucane's frustrations at the delay.
The judge also gave the Secretary of State until August 30 to file any evidence, declaring: "It's not merely a target, it's a deadline I expect to be met."