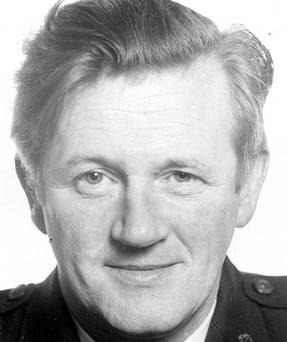 44 years ago today – 25 February 1977 – Sgt Joe Campbell was murdered as he locked the gates of Cushendall police station.
In 1980, an RUC Special Branch officer, Charlie McCormick, was charged and later acquitted of Joe Campbell's murder.
In 1999, in an affidavit, a former RUC officer recounted detailed conversations between McCormick and Robin Jackson, a paid RUC and British Army agent, and notorious yet untouchable murderer from the mid Ulster UVF, of a proposal to murder a catholic police sergeant who had become aware of McCormick's involvement in bank robberies, gun running and other serious crime.
An agent handled by McCormick who claims to have been present on the night of the murder also alleges that McCormick was warned by an Assistant Chief Constable in Special Branch that Joe Campbell was aware of his criminality and that he needed to be dealt with.
He further alleges that a Military Intelligence Liaison Officer based at Magherafelt was present during the murder, and that the agent was ordered by the RUC to withhold this evidence from McCormick's trial. In 2014, the Police Ombudsman found that Joe Campbell's death was preventable.
In 2015 the Attorney General ordered an inquest following an application by his widow Rosemary, now aged 86.
Whilst waiting for the inquest into their father's death to be held, two of Joe Campbell's sons died awaiting the truth of their father's murder.