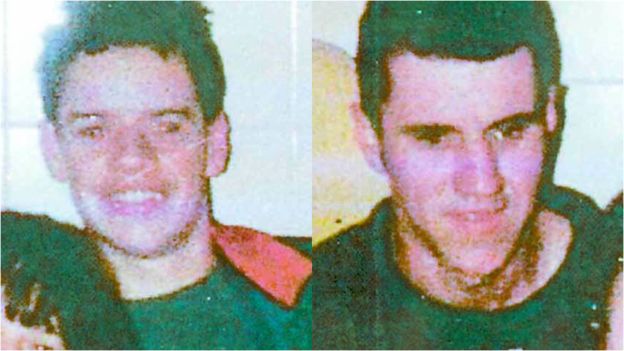 Report from the High Court today where Madden & Finucane represent the family of Gerard and Rory Cairns.
Gerard and Rory Cairns were shot dead when UVF gunmen broke into their home at Bleary, near Portadown, in 1993.
The father of two brothers murdered by loyalist terrorists has failed in a legal bid to secure a public inquiry into suspected security force collusion with the sectarian killers. Eamon Cairns wanted the High Court to order Northern Ireland's Secretary of State to set up a tribunal based on claims in a television documentary examining the deaths of his sons Gerard and Rory.
But a judge refused to grant leave to seek a judicial review after setting out how a police investigation into the allegations is ongoing.
Gerard and Rory Cairns, aged 22 and 18, were shot dead when gunmen broke into their home at Bleary, near Portadown, in October 1993.
No-one has ever been brought to justice for the killings carried out by the UVF's notorious Mid-Ulster unit, headed at the time by Billy "King Rat" Wright.
Even though subsequent Police Ombudsman and Historical Enquiries Team (HET) investigations found no evidence of security force collusion, the family continued to believe the murderers were protected. Those suspicions were reinforced by a BBC Spotlight documentary broadcast in October 2019.
In the programme one of Wright's former associates, Laurence Maguire, claimed some police officers provided information to help the murder gang target potential victims.
Believed to be the first person in Northern Ireland convicted of directing terrorism, Maguire also admitted involvement in a previous aborted bid to kill members of the family.
He indicated that he had been part of a four-man team planning to "murder any male occupant" of the Cairns household a year before the brothers were shot.
He named Wright and Robin Jackson, both now deceased loyalist leaders, as accompanying him in the earlier operation, the court heard. According to the programme, Wright and Jackson were believed to be state agents.
Counsel for the victims' bereaved father described the contents of the documentary as "shocking".
She contended that it undermined all previous investigations into the killings.
Although Maguire was in prison at the time of the murders, the court heard his information is crucial.
Yet, according to the family's lawyers, no action has been taken over his alleged confessions in the 16 months since the documentary was broadcast. Ruling on the challenge today, Mr Justice McFarland acknowledged the programme raised serious issues.
However, he held that the Secretary of State has adopted a "wait and see approach" while the investigation continues.
Dismissing the case, the judge said: "It could be argued with a degree of force that to establish an inquiry under the 2005 (Inquiries) Act, based on the content of the BBC programme alone would be irrational in itself."
Following the verdict Mr Cairns declared that he has no faith in police ability or willingness to investigate his sons' killings.
He said: "It is both shameful and inhumane that no officer of the PSNI has come to explain to my family what steps it has taken to investigate the admissions made by Laurence Maguire more than sixteen months ago, that he conspired with others to murder me and my sons, based on information supplied by the security forces."
Mr Cairns' solicitor, Fearghal Shiels of Madden & Finucane, added: "We are very disappointed by the High Court's decision and will closely study the judgment with a view to further litigation."