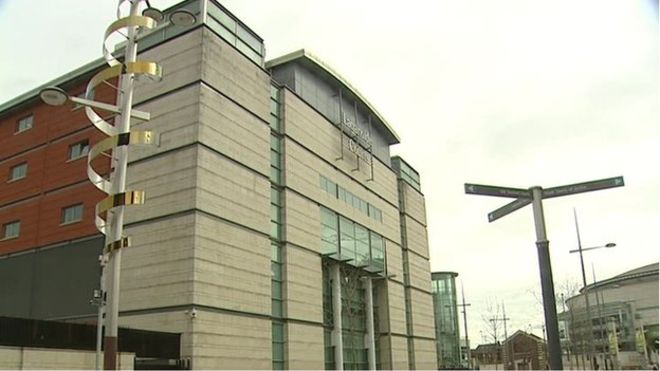 Report from Laganside Crown Court yesterday where the Defendant was represented by Patrick Madden of Madden & Finucane Solicitors.
A Co Down man has narrowly avoided being jailed after he admitted throwing an unlit petrol bomb into the home of a sleeping couple.
Suspending a two year sentence for three years, Judge Geoffrey Miller QC told Johnathan Neal Martinez that he "shuddered to think what would have happened if the petrol bomb had ignited burning embers" in a fire grate.
Former soldier Martinez (43) pleaded guilty to a single count of throwing a petrol bomb.
A second charge of making a petrol bomb was left on the books and "not to be proceeded with without the leave of the Crown Court or the Court of Appeal".
Downpatrick Crown Court heard that the couple were woken from their sleep in their home on April 29, 2019, by a "crashing sound".
On investigation, they discovered their living room window had been smashed and an unignited petrol bomb was lying on the floor.
The device was recovered by police for forensic examination and Martinez was subsequently arrested after his fingerprint was found on the heavy bottle complete with wick and flammable liquid. At police interview, he denied he was behind the attack.
The court heard that the defendant told a probation officer that a dispute had arisen between him and the couple who said they were not happy with work he had carried out on their home as a chartered surveyor and they had instigated civil proceedings against him.
He said he felt "aggrieved" at what had happened and claimed he was owed £1,800 by the couple.
A medical report on the defendant said he suffered from anxiety and depression and was using alcohol and diazepam to cope.
However, the report stated that he did not have post traumatic stress disorder as a result of a number of tours of Northern Ireland while a serving soldier.
His previous record included a conviction for common assault dating back 20 years and a number of motoring offences.
The Probation Service assessed him as a medium likelihood of reoffending but he did not pose a danger to the public in the future.
Passing sentence, Judge Miller recounted a number of aggravating factors including the attack had happened while the couple were asleep in their own home.
He said Martine's actions were from a "desire to intimidate his victims", adding that it was clear from their victim impact statements the incident had had a "profound effect on them".
"Had that heavy bottle come into contact with the embers of the fire in the grate it could have resulted in catastrophic consequences," said Judge Miller.
The judge added that although the custody threshold had been passed, on balance he had decided to suspend the two year sentence for three years.
But Judge Miller warned Martinez that if reoffended during that period, he would be brought back to court and the two year sentence would be made consecutive on top of any other sentence he received.
He also ordered the defendant to pay the couple £2,000 in compensation within the next three months.