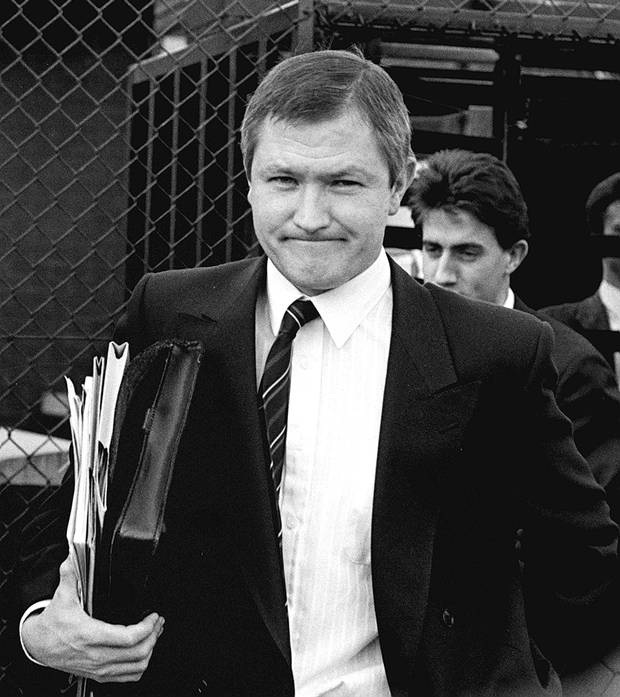 MI5 cleared hard drives relating to the Pat Finucane murder from the computers of a retired judge's probe into allegations of security force collusion, a BBC documentary reveals.
It is alleged that security service operatives entered the London offices of Judge Peter Cory in 2002 and removed hard drives in the "interests of national security".
The revelation is made in the latest episode of Spotlight On The Troubles: A Secret History, due to be broadcast tonight.
The murder of Mr Finucane (39) in north Belfast in 1989 remains one of the most controversial of the Troubles.
The high-profile solicitor was shot dead by loyalists in front of his family in an attack which an official report later concluded had involved collusion with the UK state.
That report was carried out by Judge Cory.
In tonight's documentary, it is claimed that in 2002, Judge Cory's inquiry team office based in Brook Street in central London was visited by MI5.
Neither Judge Cory nor his staff were present.
Presenter Mandy McAuley says: "A number of people entered the premises… they identified themselves as MI5 and said they were there to remove all of the inquiry's hard drives in the interests of national security.
"Both drives containing top secret intelligence, most of it relating to the Pat Finucane murder case, were wiped clean and returned.
"An international panel running an inquiry into collusion set up by the prime minister had what was described its entire work product taken by MI5."
It is claimed "security services were concerned that Cory's computer system was insecure and a leak could endanger informers".
Judge Cory's counsel to the inquiry, Renee Pomerance, told the programme: "I can confirm that the incident occurred just as you have described it."
The judge made a complaint to John Stevens, the then Metropolitan police commissioner, but it is also stated that he had "printed back up copies of the material that was taken and we have been told that he believes that nothing was ultimately lost".
The programme says he did not pursue an official investigation to "prevent what might have become an international diplomatic incident".
Following his probe, the judge concluded that there had been collusion between the killers and the state and recommended a public inquiry into the murder of Mr Finucane, but that has still has not taken place.
Geraldine Finucane, wife of the murdered solicitor, also tells the programme that she believes Judge Cory had told them he had seen "papers marked for cabinet level, for cabinet eyes only" during his probe.
"There's still something there that needs to be exposed," she said.
Mr Finucane's son John – the current Belfast Lord Mayor – last night said the claims about the hard drive were new.
"People will be of the view in reference to the security services, a healthy dose of cynicism and doubt has to be taken with it," he said.
"It is yet another example of how the security services and an extension of government abusing every weapon of the arsenal to keep the truth hidden.
"We are not surprised any more and it is a further example of why a fully independent inquiry is needed."
Meanwhile, the documentary also examines how unionist anger grew as IRA attacks on the security forces killed members of their community.
It reveals how loyalist groups rearmed and used intelligence leaks from soldiers and police to boost their campaign of killing.
It also includes new information about MI5 agents operating inside the largest loyalist group, the Ulster Defence Association.
Former UDA commander Johnny Adair describes the deadly arsenal of weapons it received from the Ulster Resistance movement in the early 1990s as "a godsend".
He discussed how assault rifles and rocket launchers were brought into Northern Ireland by Ulster Resistance via South Africa in 1987.
The documentary states the weapons sparked an upsurge in loyalist killings including the Greysteel attack and Loughinisland.
It also claims that Adair's contact in Ulster Resistance was Willie Frazer, who died earlier this year.
It states he became involved with radical loyalists after his father and four other relatives were murdered by the IRA.
The documentary states that multiple sources have confirmed Mr Frazer was "Ulster Resistance's key distributor of automatic rifles and rocket launchers".
Ulster Resistance was launched at a rally in Belfast's Ulster Hall in 1986 in protest at the Anglo-Irish Agreement, with the late DUP leader Ian Paisley and his then deputy Peter Robinson along with Sammy Wilson appearing on the platform. Noel Little, father of current South Belfast MP Emma Little-Pengelly, was also linked.
The DUP leadership later disassociated themselves from the group as its paramilitary links emerged.
The programme also reveals new details about army agent Brian Nelson. It states that in 1985 he went to South Africa to source weapons for loyalists and later helped them target individuals for assassination in his role as the UDA's senior intelligence officer.
Spotlight in The Troubles: A Secret History is on BBC One NI tonight at 9pm