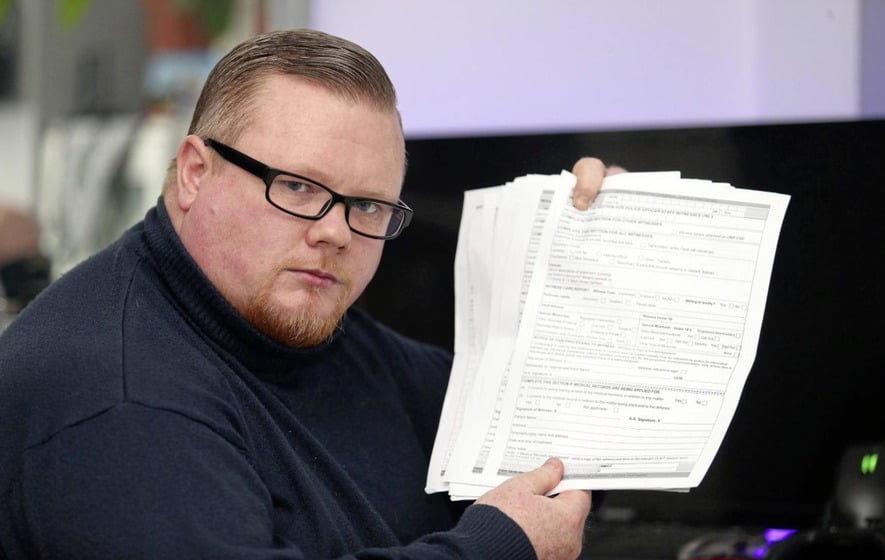 Police Ombudsman uphold complaint that PSNI endorsed the work of peadophile hunter.
The PSNI supplied a controversial paedophile hunter group with official police statement forms.
Details of the arrangement emerged after a complaint was made to the Police Ombudsman's Office, which has concluded this could have been "interpreted as endorsing" the work of the group.
It has now been revealed that leading hunter George Keenan was provided with official 'police statements and care witness forms' in 2017.
At the time Mr Keenan was involved with a group known as Silent Justice, which sought to expose people it alleged were paedophiles during encounters broadcast live on Facebook.
In February Mr Keenan and two other men were convicted of disorderly behaviour and obstructing a road in south Belfast.
The charges against them related to a confrontation with a BBC reporter in February last year.
The accused were each given a three-month suspended prison sentence.
He also pleaded guilty to two charges of assault and was fined £300 last month after complaints were made two men he had confronted.
Last year Mr Keenan made a series of complaints to the Police Ombudsman's Office in relation to several police officers.
In a report published in December the majority of complaints were not upheld.
However, a claim by Mr Keenan that police had provided him with official witness statement forms was upheld.
It was established that a police officer handed over the official documents after receiving a request from Mr Keenan and seeking approval from a senior investigating officer.
The ombudsman said: "Police records show that the reason for providing the documents to you was to speed up the evidence gathering process.
"However, the Police Ombudsman investigation has concluded that this action could be interpreted as endorsing the work you were carrying out."
The ombudsman's office also said that it could not make a disciplinary recommendation in respect of the senior investigating officer as he was no longer in the PSNI.
The report also confirms that on the balance of probabilities evidence gathered during the ombudsman's investigation supports an officer's account that police advised Mr Keenan to desist from his activities.
It also dismissed complaints that a police officer made a false statement and said no misconduct had been identified in a letter sent to Mr Keenan by police.
The ombudsman confirmed that the letter contained a 19-point evidential checklist on how to record best evidence statements.
Mr Keenan's solicitor Michael Madden said he "initially engaged in 'paedophile hunting' with good intentions to prevent harm to young people and to expose paedophiles to the authorities.
"In hindsight Mr Keenan regrets some of his behaviour and has no intention to engage in any further similar activity and will leave future investigations in the hands of the PSNI," he said.
Superintendent John McCaughan said: "When a member of the public makes a complaint about the conduct of an officer it is right that the matter is thoroughly investigated by the Police Ombudsman.
"PSNI cooperated fully with the Ombudsman's investigation."