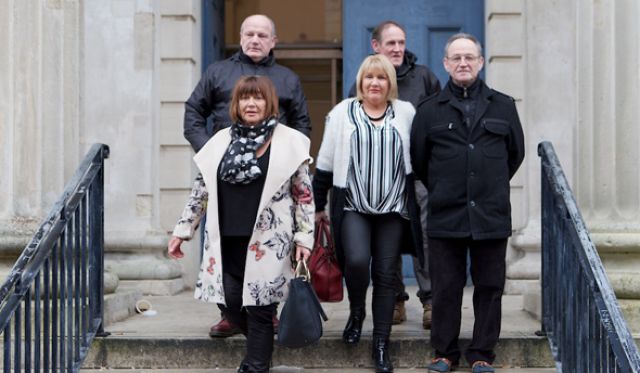 Day 5 of the inquest into Kathleen Thompson's death, where Madden & Finucane represent the Thompson family.
A Derry family who have waited almost 47 years for an extensive inquest into the death of their mother, who was shot by a British soldier, have had proceedings adjourned until June and it may not sit in the city.
Kathleen Thompson, a 47-year-old mother-of-six, was killed at her Rathlin Drive home in Creggan home by a bullet fired by a British soldier on November 6, 1971.
Following a raid on a house in her street, Mrs Thompson was discovered by her husband, Patrick, and daughter, Minty, who was 12-years-old at the time.
The soldier responsible for firing the fatal shot, known only as Soldier D, concluded his evidence earlier this week. He gave his testimony while screened off from the court, however, the Thompson family were permitted to watch him.
Ballistics experts also gave evidence today and yesterday. All three experts agreed that Mrs Thompson was shot by a high velocity bullet and that she was crouching or kneeling and bent forward when she was shot. There has been evidence given by other witnesses present on the night that Mrs Thompson was believed to have been in her garden banging a bin lid on the ground as was common practice at the time to alert the community that soldiers were raiding in the area.
All three experts also agreed that Mrs Thompson could have been shot by a gun aimed in through the gaps in her garden fence. The experts came to the conclusion that it 'cannot be excluded that the muzzle of the weapon was fired from within one or more of the gaps of the wooden fence'.
The experts also agreed that the fatal shot could have been fired from the position on a map where Soldier D was said to have made the shot. This map was provided by his superiors in the British Army.
Soldier D also claimed he had seen 'silhouette' or head, torso and arms of a gunman in Mrs Thompson's garden and that he had heard a shot, saw a 'flicker' and then heard a bullet fly past his head. He later changed his evidence to say that he heard the shot and saw a flash at the same time.
All three experts said it would have been scientifically impossible to hear a bullet pass by at such a short distance away as it would have been almost simultaneous with the bang of the shot.
All three experts also said that 'the ability to identify anything other than shadows from within the garden from the roadway at this time of night cannot be relied on'.
They added that Soldier D's assertion that he heard the shot, saw a 'flicker' and could identify a 22 weapon was 'not in keeping with what would have happened'.
When the evidence came to a close today, Gerry McAlinden QC, legal representative for the Coroner Service, announced that the rest of the evidence could not be heard and that it would be essential to adjourn the matter to June.
He said: "In terms of when the matter can be relisted, the earliest availability is June 6, 7 and 8, and it will be necessary to confirm the location of a courtroom for those three dates as it may well be the case that there is no courtroom available in this building and we may have to go to another courtroom."
He also said that the availability of remaining witnesses would also have to be confirmed.
The Coroner, Ms Sandra Crawford, said: "I will set provisional date of 6,7 and 8 of June for the resumption of this inquest and details are to be confirmed regarding location."