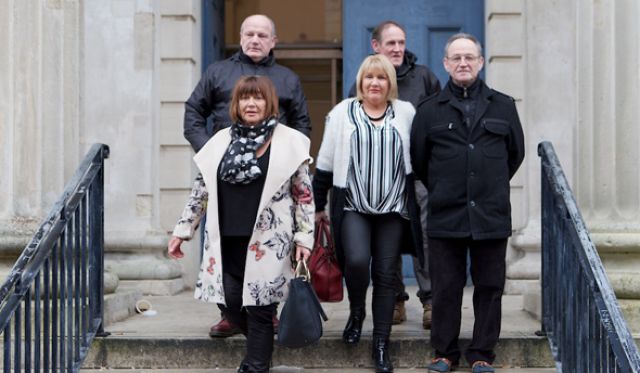 News report from Derry Court where Madden & Finucane represent the family of Kathleen Thompson. The inquest continues.
A former British soldier responsible for shooting dead a Derry mother-of-six wept in the dock as he expressed regret for the killing but failed to provide names of other army personnel who could assist the inquest into her death.
Kathleen Thompson, 47, was shot dead in the back garden at her Rathlin Drive home in Creggan by a bullet fired by a British soldier on November 6, 1971.
Around midnight on the night Ms Thompson was shot dead, members of the Royal Green Jacket Regiment carried out a raid on a house in Rathlin Drive.
Shortly after the raid Mrs Thompson was found dead in her garden, where she had been discovered by her husband, Patrick, and daughter, Minty, who was 12-years-old at the time. Mrs Thompson had been killed by a high velocity bullet that had struck her in the chest.
Today, her family came face to face with the soldier responsible for firing the fatal shot, known only as Soldier D, as he gave evidence at the inquest into Ms Thompson's death. Presiding over the inquest is Coroner Sandra Crawford.
Soldier D, who has been granted anonymity, gave his evidence screened off from the rest of the court but visible to the Thompson family.
Soldier D confirmed that he had shot a total of eight rounds. He said he shot the first two rounds into the Thompson's back garden at what he said he believed was a someone with a gun. He said he believed he observed a 'a flash and a bang' at 'the periphery' of his vision and that he then saw a 'vague outline' of a 'head, arms and torso' behind the fence.
In a statement made directly after the incident in 1971, Soldier D had also stated that he shot another six times at what he believed to have been the source from which explosive objects had been thrown at him.
However, a statement by Soldier A, who was alongside Soldier D at the time of the incident, was admitted to the inquest as evidence.
Soldier A said he had told Soldier D to stop firing and move on and that the subsequent six shots fired after the two into Mrs Thompson's back yard, Soldier D had mistakenly fired upon his own troops.
Soldier D, in a later statement to the Historical Enquiries Team in 2010, claimed he could not remember firing the subsequent eight shots after the first two. However, he conceded that the account given in 1971 where he admitted firing eight shots would be the most accurate account due to its contemporaneous nature.
Soldier D said the incident involving Mrs Thompson had been the only incident in his army career where he had ever fired a shot and where there was a fatality. He admitted he had been questioned after the incident but that no further action was taken by the army either in relation to Mrs Thompson's death or the allegation that he had mistakenly fired on his own troops.
Gerry McAlinden QC, legal representative for the Coroner Service, asked Soldier D if he accepted that it was his bullet that had struck and killed Mrs Thompson.
He replied: "I certainly do have to accept that very possibility, but I was aiming at what I thought was someone discharging a weapon at me.
"I would be appalled if it was me who was responsible."
At this point, Mr McAlinden asked Soldier D if it was his intention to kill Mrs Thompson to which he replied, "Of course not."
He then asked Soldier D if he regretted his actions. Thompson family members, who had a view of Soldier D, confirmed that he became emotional at this point and answered by nodding.
Full file
After a short recess, Karen Quinlivan QC, questioned Soldier D in relation to a letter he had sent Chief Constable of the PSNI in 2002 concerned about a request by Mark Durkan, an MP for the SDLP at the time, to see the full file on the Kathleen Thompson case.
In the letter, Soldier D had referred to being informed by other former soldiers and colleagues about articles regarding the case in local newspapers, the Derry News and Derry Journal.
She asked Soldier D who had told him about this as the paper would have only been available locally.
He said he could not remember any of the names of his former colleagues from the Royal Green Jacket Regiment, which he had earlier described as a 'family'.
He then said the information may have come from soldiers who married women from Derry. When asked about the other soldiers that gave evidence about the incident that involved the fatal shooting of Mrs Thompson, Soldier D again said that he could not recall anyone's name. He also said he could not remember the names of anyone who had been selected to be trained as promising young soldiers, of which he was one of 30, in a special platoon.
Ms Quinlivan put it to Soldier D that, given this was the only time that he had ever discharged a live weapon in an operation and that it had resulted in a fatality, this was 'not a forgettable incident' and that he would recall at least some of the names of the soldiers present that night.
She also suggested that he was being deliberately obstructive to the inquest by failing to give names that would provide assistance. However, Soldier D claimed he just could not remember anyone's names.
Ms Quinlivan also questioned him on the six shots fired after the first two into the back garden of the Thompson family. She pointed out that on his annual report and employment sheet dated August 1971 to August 1972, that Soldier D had lost his place on the junior NCO (non-commissioned officer) cadre due to an 'unfortunate incident'.
Promotion
Ms Quinlivan asked: "Is there any chance you lost your place for shooting Kathleen Thompson or because Soldier A said you were shooting at your own platoon?"
Soldier D said he didn't recall that and repeatedly told the court how he had been promoted.
He said: "I can't understand this, if you check my records you will see I was promoted."
Ms Quinlivan replied: "We know that in Northern Ireland soldiers are promoted after firing fatal shots." She then made reference to Bloody Sunday by way of proof.
She also asserted that what Soldier D had fired six shots at was his own troops deploying CS gas.
She pointed out that someone would have been 'super-human' to have thrown an explosive device 130m, citing the World Record for the javelin throw at 104m while the discus was 74m.
Ms Quinlivan added that, even if the shots had been aimed at someone who had thrown something, this was a breach of the 'yellow card' rules of engagement as once the items had been thrown there was no further threat.
The inquest continues. See Thursday's Derry News for comprehensive coverage.