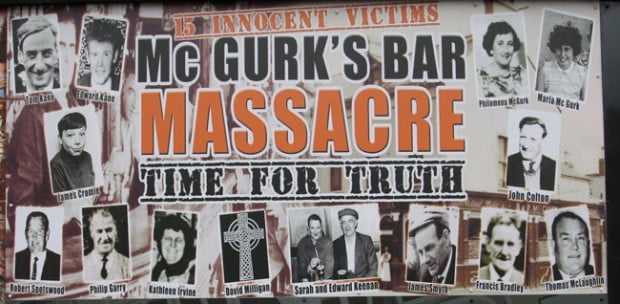 During a sentencing hearing yesterday of PSNI informant Gary Haggarty, at Belfast Laganside Courts, it was revealed that Mr Haggarty had provided significant information to the PSNI, several years ago, in relation to identifying the perpetrators of the McGurk's Bar bombing on 4th December 1971.
This information was not passed on by the PSNI to the families of those killed. It is also clear that this information was not considered during the production of several HET Reports into the atrocity, nor was it mentioned in several court cases involving the PSNI.
Our clients have long alleged that the PSNI have sought to protect the identities of some or all of those involved, whom, following confirmation at an Information Tribunal hearing in London in December 2016, they know were state agents. Our clients further allege this was done not only to protect these agents, but also to protect the reputation of the RUC, who contributed considerably to the cover-up which followed the bombing.
Niall Ó'Murchú of Madden & Finucane, stated:
"Given the serious implications that this is likely to have, we can confirm that we have today written to both the Chief Constable of the PSNI and the Police Ombudsman Michael Maguire, to obtain clarity about what their respective offices did, and didn't do, in relation to these revelations.
"This is a matter of the utmost seriousness, and both OPONI and the PSNI have questions to answer."
Gerard Keenan, whose parents Sarah and Edward Keenan were both murdered in the bombing stated:
"This revelation that the PSNI recently had new and potentially important information about the McGurks Bar bombing is a shock.
"The Police Ombudsman had oversight of Gary Haggarty's debrief interviews and should have known about this as well."