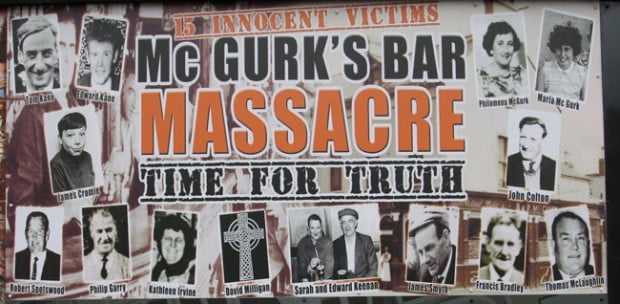 McGurks Bar Bombing – Statement on behalf the Keenan family
Following the successful 45th Anniversary McGurk's Lecture on Tuesday 6-12-16, Peter Madden, of Madden & Finucane Solicitors, on behalf of the Keenan family said:
"While the Keenan family welcomed the attendance of Assistant Mark Hamilton on Tuesday night at the McGurks 45th Anniversary Memorial Lecture, they are disappointed that Chief Constable George Hamilton himself did not attend. The main discussion point was the recent discovery of the redacted British Army HQNI log which was obtained recently by researcher Ciaran MacAirt. This document shows quite clearly that the RUC and British Army knew that the bar was attacked at least by 11am the next morning, and that the explosion had not occurred as a result of a republican 'own-goal'.
"We have today written to the Chief Constable and requested that he should provide the document to the families in its un-redacted form. There is no reason that this cannot be done in a way that ensures the safety of any individuals who may be mentioned in the document. Providing this document to the Keenan family and indeed to the other families would greatly build public confidence in this matter."
Letter to Chief Constable PSNI
Chief Constable George Hamilton
Police Service of Northern Ireland
Headquarters
Brooklyn
65 Knock Road
Belfast
BT5 6LE
Dear Chief Constable
EDWARD AND SARAH KEENAN (DECEASED)
We act on behalf of the next of kin of Edward and Sarah Keenan who were murdered by loyalist paramilitaries in the McGurk's Bar bombing atrocity on 4 December 1971.
We attach for your information an Army HQNI Log Sheet dated 5 December 1971, which we understand was presented to you by relatives of those killed in advance of the most recent meeting of the Northern Ireland Policing Board and accordingly you will already be familiar with the document. The log contains an entry from 39 Brigade as follows:
"ATO is convinced bomb was placed in entrance way on ground floor. The area is cratered and clearly was the seat of the explosion. Size of the bomb likely to be 40/50lbs."
Thereafter follows three totally redacted entries, including a substantial entry which clearly emanated from RUC Musgrave Street, at 1050am on 5 December 1971.
We require this log sheet to be disclosed to us in un-redacted form in order to assist the Keenan family with an application to the Attorney General to exercise his powers under s.14 of the Coroners Act (Northern Ireland) 1959 to direct a Coroner to hold a new inquest.
You will no doubt appreciate the potential significance that the redacted entries may contain and they may very well be capable of persuading the Attorney General to direct a fresh inquest. Our clients can conceive of no legitimate basis upon which this information could not be disclosed to them and in particular, they cannot accept that there could be any national security interests applicable in 1971 which would warrant redaction 45 years after the event.
You will by now have received a report from your Assistant Chief Constable Mark Hamilton of the memorial lecture which took place last night in St. Mary's College and you will be in no doubt of the deeply powerful personal accounts provided by bereaved relatives. In our submission, it is imperative that you disclose the information sought in this correspondence if you are genuine in your efforts to secure the confidence of the Keenan family and to build public confidence.
Please let us have the un-redacted HQNI log sheet within seven days of this correspondence.
Yours faithfully
Peter Madden
Madden & Finucane