Further analysis from the Irish News regarding the Gary McDaid case. Ciaran Shiels of Madden & Finucane is representing Gary McDaid.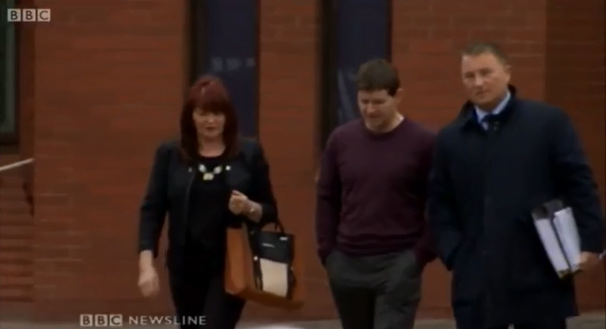 THE PSNI carried out a surveillance operation in Co Donegal during an undercover sting to intercept a van packed with mortars, court papers show.
The admission by authorities came to light after solicitors for Gary McDaid demanded all documents from the PSNI after several trial dates had been missed.
Mr McDaid walked free from court yesterday after a range of paramilitary related offences, including having explosives with intent to endanger life, were withdrawn and replaced by a cigarette smuggling charge.
In a statement later provided to defence solicitors it emerged that one PSNI officer travelled 800 metres across the border into Co Donegal in March 2013 while carrying out surveillance on Mr McDaid and a van carrying mortar bombs.
The officer, a detective constable referred to as Oscar 401, said he was "unwilling" to give evidence against Mr McDaid unless he was granted anonymity by the court.
"Given the nature of the operation in which they were involved, it seems reasonable to assume that all PSNI officers would have been armed, although none of them refer to it in any of their statements," defence solicitor Ciaran Shiels said.
"I have therefore raised with the offices of the Departments of Justice and Foreign Affairs in Dublin whether any consents were given to allow the PSNI to operate in Donegal at this time, and if no consents were provided, what the southern authorities intend to do about the matter. I await their response."
The officers were described by a senior colleague as working on "national security issues as well as organised and serious crime gangs".
It has also emerged that a third vehicle observed travelling close to the mortar van during the surveillance operation was not stopped by police.
The undercover sting which led to the arrest of Mr McDaid was part of a wide-ranging surveillance operation focused on up to 10 republicans in the Derry area.
Solicitors says authorities initially refused to reveal details of any cross-border security operation, including Garda and security service involvement, adopting a 'neither confirm or deny' position.
Gary McDaid was granted bail in August 2013 after spending five months in Maghaberry prison, much of it in solitary confinement.
Last night he said he was "glad to get on with my life and see a bit of justice being served".
"I am innocent and that has been proved," he said.
Mr McDaid said his case has raised serious questions for the PSNI.
A spokesman for the Police Ombudsman said they were "considering" the case.
A spokeswoman for the Department for Foreign Affairs said: "Neither the Department of Justice and Equality nor the Department of Foreign Affairs and Trade have a record of receiving such a complaint."