A prisoner who claimed that officials were unfairly refusing compassionate parole applications by inmates from nationalist areas has lost a legal challenge.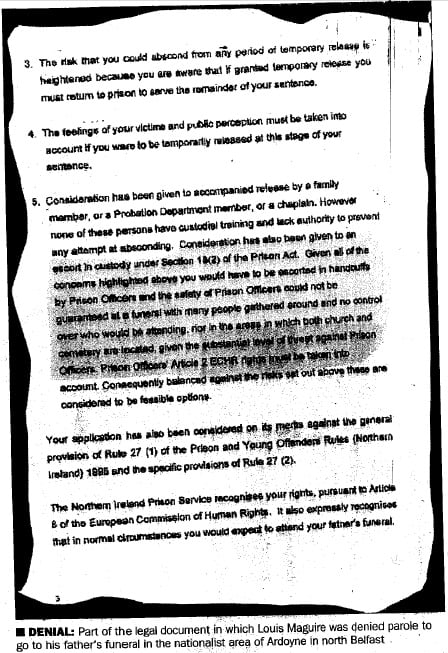 An emergency High Court hearing was told yesterday of a 'postcode lottery' that determined which prisoners were released.
Maghaberry inmate Louis Maguire had been refused parole to attend the north Belfast funeral of his father Thomas who died on Thursday following a short illness.
However, the judge Seamus Tracey refused the application by the 44-year-old's legal team to have the decision of the Prison Service overturned.
The legal team had said their client, who is serving life for the murder of David Barnes in March 2003, was being discriminated against as a result of his religion and the geographical location of his family.
The funeral of Thomas Maguire will take place in Holy Cross Church in Ardoyne this morning.
Over the past fortnight Maguire was granted three periods of leave to visit his father during his final days in the Northern Ireland Hospice.
On each occasion Maguire was handcuffed and accompanied by prison staff with police notified of the arrangements.
He was refused temporary leave to attend his father's funeral in Ardoyne because of a perceived threat to prison staff in that area of north Belfast.
Mr Maguire's sister Julie said that had the family been from what is considered "a unionist area", her brother would have been allowed out.
"It all comes down to where our family are from, an area which the prison service consider to be republican," she said.
"The only reason Louis isn't being allowed to attend our daddy's funeral is because the Mass is being held in Holy Cross.
"Not letting him go to his own father's funeral is unnecessarily cruel and is adding to our family's grief at what is already a terrible time."
Fearghal Shiels of Madden and Finucane solicitors, who represent Maguire, said: "We are disappointed that the Prison Service have failed to take into consideration the fact that our client has a history of honouring previous compassionate parole conditions."
In November 2008 loyalist Andre Shoukri, then a category A prisoner, was released to attend the north Belfast funeral of his brother Ihab who died after taking heroin.
In February 2009 west Belfast criminal Mark Cavanagh missed the funeral of his mother despite being granted compassionate parole as no prison officer would agree to escort him to the Falls Road.
A Prison Service spokeswoman said it had no comment to make on Maguire's case.